Our shop offers a large variety of flowers, shrubs, plants and trees.   Don't forget our gift shop and water displays. Our services best fit your needs and price range.

We offer individual flowers and bouquets in in all price ranges.

We offer these services:

-

Large inventory of fresh flowers
-

Plants, shrubs, trees, water displays
-

Boutonnières and corsages
-

Bouquets
-        Unique Gifts

-        Funeral Sprays

-        Weddings

On Request:

-         Gift Baskets

-          Wreaths


Plant, tree, shrub, water garden consultations at no charge - We want you to love your new greenery as much as we do!

Click on picture to begin slideshow....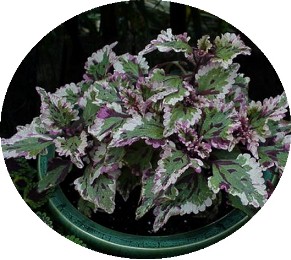 It is amazing how much the leaves of this Coleus look like fishnet with its burgundy "veins" and lime green foliage.  These colors will really add pop to your garden either planted directly into the garden or planted in containers.  This variety of Coleus loves the sun.  Frost is another matter.   They can die immediately after being exposed to frost.  They prefer temps of 55 degrees or higher.

The Fishnet Stocking Coleus is easy to grow.  If you pinch the flowers off as they die it will cause the plant to be even more full.  Coleus do need good soil with good drainage.  Sometimes they have even been grown inside.  I knew them as inside plants before I knew they were popular outdoors as well.  The Fishnet Stocking Coleus can be a perennial in the warmer zones and will not survive the colder zones so it will be an annual in those areas.  They can be grown in full sun to full shade and are fast growers and will grow upright.  Add some to your garden and receive lots of compliments!

County Line Flowers and Greenhouse

We Ship Nationwide